Many people experience different kinds of hair loss. This isn't only limited to balding on the head but also extends to eyebrows as well as beards.
In this piece, we take a look at some of the clinics in Manchester that have made a name for themselves in the hair transplant industry.
In simple terms, which are the best hair transplant clinics in Manchester, England?
We will analyse the types of hair transplants they do, how effective their services are and how much it may cost you.
Read on
What is the cost of a hair transplant in Manchester?
The number of hair grafts that you will need to be transplanted determine the amount of money you'll have to dole out.
This is the long and short of it.
Normally, clinics will use this as basis for working out the cost of your hair transplant.
Off-course every surgeon also charges for his/her price ; which can vary depending on skill and reputation.
How much does a hair transplant cost in the rest of the UK?
The cost of a hair transplant anywhere in the UK and the world at large varies depending on the degree of your hair loss.
Additionally, the price also hinges on the kind of procedure that the surgeon believes is best to rectify your hair loss.
Typically FUE procedures tend to be more pricey than FUT.
It can cost you an average of €7100 for 2000 grafts inserted using the FUE (follicular unit extraction) procedure in the UK.  This is an estimated figure.
In Ireland, the same procedure for the same number of grafts can set you back €12,000.
Hair transplant price range in Manchester
Some clinics in Manchester charge per graft. On the lower end, you might spend £3 per graft. Therefore, you'll end up shelling out £6000 for 2000 grafts. For 5000 grafts, you'll need £15,000 to cover the costs.
Off course, not all clinics charge the same price/graft.  We took £3 just to illustrate the maths.
Prices at "high-end" clinics
In top-end clinics, the price is higher for their premium services.
They usually charge around £5 per graft. So, for a 2000-graft procedure, you'll pay £10,000 whereas a 5000-graft procedure will set you back £25,000.
From what we have seen, the cost of a hair transplant in Manchester can range from as little as £6000 all the way to £25,000 for a 2000 graft procedure.
But let's stress, that clinics rarely share their prices and research in this area is extremely sparse, so these numbers will not be very accurate for everyone.
Which clinics offer payment plans for hair transplant procedures in Manchester?
Many of the clinics in the UK and Manchester, in particular, offer their services to celebrities and ordinary people alike.
However, the latter group might not be able to fork out the entire amount of money needed for the procedure upfront.
Therefore, some clinics find it good business to offer financial plans where the clientele can pay in instalments.
In this article, our main clinics of interest include Farjo Hair Institute, Harley Street Hair Clinic and Crown Clinic.
Of the trio, Harley street and Crown clinic appear to offer payment plans for their clients.
However, Farjo Hair Institute doesn't include pricing on their website.
An interested client needs to first book a consultation. Therefore, we cannot determine if they offer payment plans for their clientele.
On its website, Crown Clinic goes into fine details about its instalments and finance plans.
The hair clinic partners with specialist finance provider Medifinance to offer interest-free finance for payments with 6 or 12 months.
For payments that last more than 12 months up to 2 or 3 years, there are low-interest payment options.
Harley Street Hair Clinic offers similar payment terms.
Other clinics which may offer finance options
Other hair clinics in Manchester that we think offer finance plans include:
UK Hair Transplant Clinics
Harley St Healthcare Hair Transplant Clinics
The Private Clinic
Elite Hair Restoration
Vinci Hair Clinic
Reviewing 3 of the main hair clinics in Manchester
While Manchester has several hair transplant clinics, we are focusing on a trio of facilities that offer these services.
To rule out any personal bias and preconceptions about any of the clinics, we used a number of criteria to rate the hair transplant clinics.
How did we assess the clinics?
These assessment criteria include:
Quality of website
Customer feedback
Reviews
Means of contact
Gallery showing before and after photos
Mentions in the press
Celebrity clients
Price range
A review of Crown Clinic in Manchester
The website
Crown Clinic's website has a nice layout with a comprehensive navigation bar that leads directly to the different procedures offered, the testimonials as well as ways to contact them.
Additionally, there's information about hair transplants in general as well as specifics about the various procedures for men and women plus eyelash and beard treatments.
Each page on the website has a telephone number and link to arrange a consultation.
Celebrity clients
What stands out on the homepage is the image rotator of the several notable celebrity clients. This gives a sense of trust in the clinic i suppose.
These celebrities include football legend Didi Hamann, Coronation Street actor Jack P. Shepherd, Calum Best and BBC's Martin Roberts among others.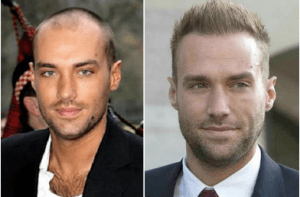 Before and after images
Results for these procedures are clearly displayed in high definition images depicting the before and after.
Below is a patient from Crown Clinic with work done to replace hair on the crown. In the very late stages of balding, the crown was filled up with hair to make it comparatively fuller than before.
Yes the picture is a little zoomed in but only to give an idea of density.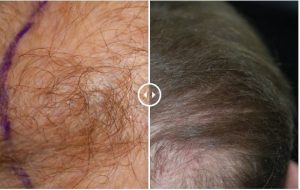 Google customer reviews | what people said
Customer feedback on the clinic's website is positive and longstanding from when the clinic opened in 2007.
On the company's google reviews page they average 4.3 stars out of 5.
Total reviews at the time of writing this article were 28.
So far, these are impressive numbers.
There were 4 reviews which rated the company 1 star – this a 14% one star rating, which above my preferred 10% maximum.
These people mostly complained about the poor customer service they experienced.  And one person wasn't happy with the hair density.
Generally, i didn't see many complaints about the hair transplant result itself.
The positive reviews, which were the overwhelming majority, were complimentary about the customer care and their results.
All the reviews were fairly detailed and looked genuine.
I also noticed a few relatives who posted their experiences, which shows clinic relies on "word of mouth" to get customers.
Press mentions
In the press, lead surgeon Dr Shahmalak has appeared on Sky News, BBC News, tv show Embarrassing Bodies as well as radio features on BBC Radio.
He has also appeared in print media, particularly as regards to his stature as the first person to perform eyelash transplant surgery.
Cost
The website also shows the price and payment plans. For a single treatment, the price shown ranges from £1000 to £5000 at the low end – depending on graft numbers.
A review of Farjo Hair Institute
Their website has a really clean look with a navigation bar that makes it easy to access all parts of the site.
You can also book a consultation on the site.
The homepage is dedicated to showing off the celebrity success stories and industry accreditation.
Celebrity clients
The clinic has worked on the likes of former Sunderland fullback and winger Micky Gray, Ashley Barnes, David Platt and EastEnders actor Shaun Williamson.
The before and after photo gallery
The site has an extensive photo gallery
Alongside the before and after photos, the clinic details the procedure each patient underwent plus the number of grafts used.
It is a nice detailed gallery that provides genuinely useful information.
Finally, we take a look at David Platt's treatment at Farjo Hair Institute.
He presented with type 5 hair loss. The ARTAS hair transplant (procedure assisted by a robot) restored the hairline and filled up the thinning hair.
The style is conservative and elegant, but perhaps thickness could be a touch better?
Google Customer reviews
The clinic has a total of 30 Google reviews at the time of writing this article.
They average 4.3 stars, which is excellent.
They have 5 one-star rating reviews in total, which works out as 16% one star rating. 
This is above the maximum 10% that i usually look for.
The people who gave one star mostly weren't happy with the results and or customer service.
To their credit, the clinic responded to each one of those people.
The positive reviews mentioned the excellent results they achieved and the quality customer service.
There was even one client who still gave the clinic 5 stars after they advised him to postpone his procedure because his hair loss wasn't stable – the client appreciated the clinic's honesty. 
Is the facility featured in the press?
The clinic was featured on the BBC 3 reality show "Plastic Surgery Undressed". It also hosted the International Trichology Congress 2019.
Cost
Beard and eyebrow transplant start from £3000. Other forms of hair transplant procedures fluctuate between £2000 and £3000.
But as ever, with hair transplants, the more hair loss you have the more your hair transplant will cost.
A review of Harley Street Hair Clinic
The website is clean and transparent with the aura of a high-end facility.
It offers all information that you need to know. This includes the various procedures as well as detailed prices and finance options.
The clinic's website has a graft calculator that enables you to determine how many grafts and hairs you need to correct your kind of hair loss.
So, you can probably calculate the cost of a hair transplant procedure.
Cost
The cost ranges from £3000 to £15,000 depending on the type of hair loss and the number of sessions needed to rectify it.
Google customer reviews
The clinic has a 4.9-star rating on Google Reviews at the time of writing this article.
The total reviews at the time of writing this article is 37.
The lowest rating is a single two-star rating.  All the other reviews are the maximum 5 star rating.
This is a hugely impressive rating.
People were complimentary about the results, and mostly about the professionalism of the clinic.
One name that kept coming up is "Hakeem" who customers said gave exceptional service.
 Photo gallery 
The gallery contains before and after pictures, depicting the patients prior to the transplant and after the new hair had set in.
Furthermore, there are videos detailing their entire hair transplant journey.
Overall, this is a really good section of the website.
This client (below) from Harley Street Hair Clinic went in with a receding hairline in the first stages of male pattern baldness.
From the results, we can see that the hairline was restored to a natural look and the volume of hair lends itself well to easily being coiffed.
An excellent result both in design and density.
Celebrity clients
The most prominent celebrity to engage the services of this clinic is England football record goalscorer, Wayne Rooney.
How do you get in touch?
You can contact the clinic through their website, by calling their number or getting in touch through WhatsApp.
Final word on the clinic results/photos
Overall, the results of the clinics show a good level of skill.
But let's remember these are probably their best results.
So this is not a representative of their entire pool of ex clients.
All three clinics offer their services to women as well.
Client cover a wide spectrum of ages.
When it comes to the different ethnicities, the overwhelming majority of the clients are Caucasian.
There are also a few Asian clients. However, there was hardly any clients of African origin.
Which clinic is the most impressive? (in our opinion)
Although all facilities have good results and garner positive reviews, Harley Street Hair Clinic stood out in terms of quality of work, and customer feedback.
The results were consistent and the overall result was a fuller head of hair. However, it was also the most expensive.
I suppose you get what you pay for!
Farjo Hair Institute managed to strike a fine balance between cost and good results.
Is Manchester a good destination to have a hair transplant?
If you need a hair transplant, Manchester is a very viable option.
The main reason for this is that many of the top hair clinics in London have branches in the northern city. Consequently, you do not have to go down south to work on your hair.
However, if you find hair transplants expensive in the UK, you can try Turkey where it is less costly.
Brazil and Mexico are also cheaper but the travel costs and accommodation nullify the entire point of saving.
Our personal recommendation is Turkey for an excellent balance between cost and quality.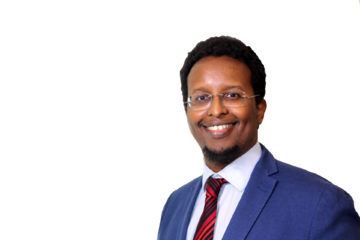 Pharmacist with special interest in hair loss and hair transplantation.
Read my book on hair transplants in Turkey on Amazon:
https://track.more-info.co.uk/amazon/authorprofile