In this article, we take a look at one of the most high profile hair transplant clinics in Turkey; Hair of Istanbul.
To take any bias and preconceptions out of the equation, we set out a few criteria to base our review on.
This article has been updated for 2021 with some major news – see below
Cirteria we used for this review
Location
Price
Main hair transplant surgeons
Hair transplant techniques
State and quality of their website
Before and after pictures
How to contact them
Feedback from clients across various platforms
What their Instagram page is like
Location of Hair of Istanbul
The very name of the clinic gives this away. The hair transplant facility is located in Istanbul, Turkey.
The physical address:
Ataköy 7-8-9-10. Kısım Mh. Çobançeşme E5 Yan Yol Cad. No:20-1/3 Ataköy Towers A Blok Kat:1 Bakırköy, Istanbul / Turkey.
How to get to Hair Of Istanbul
If you aren't a resident of Turkey, you might have to fly into the country to access the services of the hair transplant clinic.
For UK and US citizens, all you need is a valid passport to enter the country.
Your passport also grants you a 90-day stay in the country without requiring a visa.
If you have signed up for the Exclusive Service Package, you are entitled to transport from the airport to a hotel booked for you.
The clinic's partners also shuttle you anywhere in Istanbul.
The facility's website doesn't state the price of the procedure.
If you want to know what they charge, you need to send a picture of your scalp so that they can determine the number of grafts you might need.
However, looking through other online sources, we estimate the clinic charges around $4000-$8000 per 2000 grafts.
This figure was obtained through client's feedback on forums.
It is by no means the cheapest clinic in Turkey.
Procedures offered by Hair Of Istanbul
The clinic offers the following:
Hair transplant for men
Hair transplant for women
Beard transplant
Scalp scar treatment
Hair transplant aftercare
Doctors at Hair Of Istanbul
The website doesn't give any specifics about their surgeons. All that they mention is that they have a "qualified medical team"
Additional online research reveals that the key person is CEO Mehmet Fatih Akdemir.
His LinkedIn page claims he has skills in hair transplantation.
However, we can't find any medical qualifications on the profile.
The only industry knowledge we can see is business strategy, planning and management.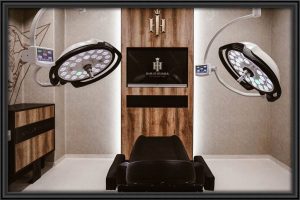 Hair transplant techniques at Hair Of Istanbul
Hair of Istanbul utilizes FUE (follicular unit extraction) in all their hair transplant procedures.
We didn't see any mention of FUT or strip technique.
On their social media, they have posted some videos of the actual procedure (we will come to that later)
What does their website look like?
The website has a refined dark theme.
There are several images of Roman statues with full heads of hair, giving the site a distinctly Turkish feel from the days of Constantinople.
The site is also available in 7 languages including English, Arabic, French, Spanish, Portuguese, German and Italian.
However, the English version is riddled with glaring grammatical issues in the copy.
The blog section might still be under construction because it is filled with articles that have nothing to do with hair transplants.
Hair of Istanbul doesn't have a photo gallery on its website. However, the Before and After tab links to their Instagram.
Hair of Istanbul Instagram
They do have a large Instagram presence. Their account has 1.2 million followers.
They also post regularly.
The majority of the content is before and after photos of their clients. Additionally, there are a few videos of the surgeon carrying out transplant procedures.
The photos are detailed, showing the before, immediately after and the various stages of growth. The majority of the photos are of Caucasian and Asian men of all ages.
However, there are a couple of men of African descent as well as a woman of the same heritage.
Analysis of before and after pictures
In the case below, the subject has what appears to be Grade 3 male pattern baldness according to the Hamilton Norwood scale.
After FUE, the results are impressive, showing natural-looking dense growth.
Below is a man who had slightly more advanced hair loss, and he has again ended up with a very good result.  Notice how the hairline remains high, which is perfectly natural with his age and facial features.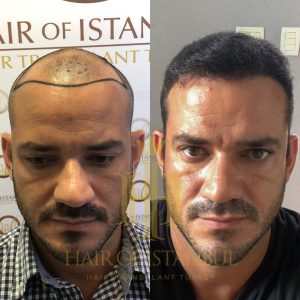 However, we noticed ALL the results only show the hairline – never the crown.
How can you get in touch?
What do the previous clients have to say about the clinic?
The facility's website doesn't have any testimonials from previous clients where we might have gotten first-hand comments about the experience.
Nevertheless, we looked through some online review sites and forums.
Let's take a look at the positives and negatives.
Positive reviews
The clinic has a 4.9 out of 5 star rating out of 446 Google Reviews.
On Hair Transplant Turkey Reviews, the clinic has a score of 7.3.
Previous clients were happy with:
Dedicated hair aftercare and follow-up
Translators for all the different languages
Limited damage and scarring at the donor section of the head
The hotels provided are of high quality
The opulent interior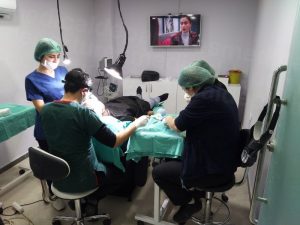 Bad reviews
Google Reviews has 6 negative comments about the clinic.
Other forums also have some negative reviews.
Below we list what these clients found unimpressive:
Relatively higher price
Booking more than 3 people on the same day for the same procedure
Some were disappointed with the results when they didn't match the quality of those shown on the Instagram page.
Inability to consult with the surgeon before the procedure
Having been speaking to people who consulted with Hair of Istanbul, an issue has come up.
And it is a major one!
Firstly, it seems that hair of istanbul are very selective over who they select for hair transplants.
They only want people with extremely thick donor hair, and they pretty much reject anyone who doesn't fit this mould.
Why?
Probably because they want to keep splashing outrageously thick hairlines all over their social media.
It is a great marketing tool.
But at what expense?
Not everybody who wants a hair transplant has ridiculously thick donor hair.
In fact, the reason people pay so much for hair transplants is for the surgeon to use his skills to transform clients with weaker donor hair into success stories.
Secondly, having looked at the graft numbers they quote clients, i am suspect they over-harvest.
I.e. they take more grafts than is necessary.
Why is this a big deal?
well, because none of us have an endless supply of donor hair.  If the donor hair is depleted you can forget about future hair transplants.
And because of this habit of over-harvesting, they need clients with very thick donor hair.
It all 
There were many positives with Hair of Istanbul.
Their customer service is exceptional judging from the reviews on Google.
The before and after images show good work.
Having said that, it was concerning they only show the frontal hairline results.  Never the crown.
We were also concerned that there was no named surgeons to be found anywhere.
And finally, the issue about over-harvesting and turning down perfectly good hair transplant candidates is another worry.
Overall, there are enough doubts for me NOT to recommend this clinic for now
PS: i contacted the clinic to give them an opportunity to put their side of the story, but they declined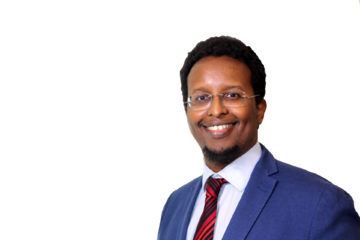 Pharmacist with special interest in hair loss and hair transplantation.
Read my book on hair transplants in Turkey on Amazon:
https://track.more-info.co.uk/amazon/authorprofile