This article is a review of one of the hair transplant operations in Turkey; Sule Hair Transplant Clinic.
Article content
We have listed several criteria to paint a clearer picture of the facility.
In this review, we'll state or examine:
Location of the clinic
The price for services rendered
Main surgeons running the hair transplant side of things
The techniques of transplant utilized
State and quality of their website
Before and after pictures
How to contact them
Feedback from clients across various platforms
What their Instagram page is like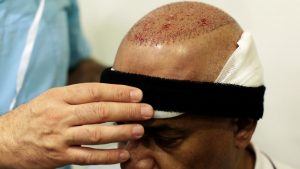 Location and how to get there
Where is the facility located?
Sule Hair Transplant Clinic is located in Istanbul in the İSÜ Medical Park Gaziosmanpaşa Hospital –  a teaching hospital affiliated with a university.
Full address: Merkez, Çukurçeşme Cd. No:59 D:No: 57, 34250 Gaziosmanpaşa/İstanbul, Turkey.
What do you need to get into the country?
If you have a valid UK passport, you can fly into Turkey without a visa and stay for 90 days.
However, citizens of mainland European countries like Germany, Italy, Spain, France and Portugal can jet into Turkey with only their national IDs. For other countries, more information can be found here.
How can you get to the clinic?
After obtaining the proper paperwork, you can fly into the country via Istanbul Airport or Sabiha Gökçen Airport.
The clinic offers packages that include transport to and from the facility as well as accommodation for your stay in Turkey.
What is the price for the hair transplant services?
The clinic doesn't openly display their prices on their website. They insist that the price can only be calculated after consultation to determine the extent of your hair loss.
However, looking through review sites on the internet reveals that the price ranges from $1,800 to $2,000. Nonetheless, these sites don't elaborate on how this pricing is structured.
Personally, i would agree with the clinic that prices should only be given after a consultation to assess your needs.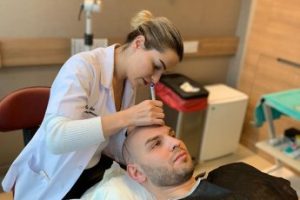 What procedures do they offer?
When it comes to hair, the clinic offers several hair loss procedures.
These include:
Hair transplant for both men and women
Beard transplant
Moustache transplant
Eyebrow transplant
What other procedures can you find at the clinic?
Apart from the hair transplant operation, the facility has branched out to offer dental and aesthetics procedures.
Dental services offered
These include:
Hollywood Smile
Zirconium crowns
Teeth whitening
Dental implants
Aesthetic services offered
These include:
Rhinoplasty (nose job)
Tummy tuck
Liposuction
So if you need a hair transplant plus another procedure, you are in luck!
Who are the main surgeons at the clinic?
Being a university hospital, one would expect that the clinic would want to show off the scientific brains behind the operation. However, the website doesn't mention any surgeons.
Scouring the internet reveals that the clinic was founded by Şule Aydin, a hair transplant specialist.
What techniques are used for the hair transplant procedures?
The clinic carries out 3 hair transplant techniques.
These are:
FUE (Follicular Unit Extraction)
Sapphire FUE using sapphire blades
DHI (Direct Hair Implantation) with the Choi pen
Website and social media review
What is the state of the website?
The website is clean and laid out well enough. It has all the information you would need to know about the procedures and how they are done.
You can change the language from English to Brazilian Portuguese, German, Spanish and French.
Perhaps the most significant blemish on the site is that some of the copy has glaring spelling errors and grammatical mistakes.
It also has just one blog post from 2016, detailing the transplant process.
Are they active on social media?
The clinic has an Instagram account with a following of just over 62,000 followers.
The majority of their posts show before and after photos of their clients. The stories also feature some results in the dental and aesthetics department.
.
Before and after pictures
What do the before and after pictures show?
The before and after photos are as well done as they are numerous.
In graphic detail, they show the patient before the transplant and immediately after the follicles have been transplanted.
They also show two photos at different stages after the operation.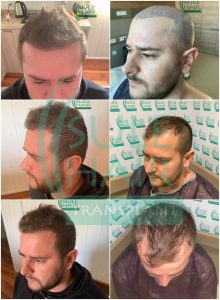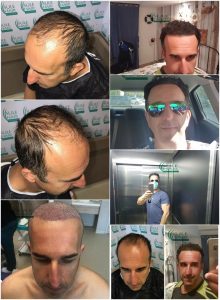 Overall, there is some great work on this display here.  But always remember, that every clinic only shows its best results!
You can see the photo gallery for yourself here:
Clinic contact information
You can reach out to the clinic via their website: https://sule-hairtransplant.com/
You can also call or contact them on WhatsApp using numbers +90 542 838 77 79 and +90 507 391 41 26
They also have an email address: info@sule-hairtransplant.com
What do the clients have to say about the clinic?
The site has plenty of positive testimonials from clients out of Germany, Brazil and locals.
 Reviews and Hair Transplant Turkey Reviews show a more balanced picture.  But i must admit, i don't much about this website or how reliable it is.
What are the main positives?
Google reviews are 5-star out of 397 submissions. 
This sounds odd.  It is extremely rare that a large volume of reviews can be all 5 stars.  This looks artificial to me.
I have no doubt many of these reviews are genuine but to say there isn't a single review that is below 5 stars, from nearly 400 reviews, sounds far-fetched.
The reviews themselves are very complementary about the service, the hotel and the staff at Sule clinic.  This is a consistent thread throughout.
What are the negatives?
There are some negatives on forums. Some claim that the experience was below par.
Furthermore, some complain that the hairline results and overall transplantation are not as appealing as they once were.
The package they offer is a great one especially if you haven't been to Turkey before and can't speak the language. Not only do they offer transport and accommodation, but they also provide a translator.
Basing on the photo gallery alone, they seem to be doing a good job.
The results show thick and dense hair as well as restored hairlines.
However, some of the reviews are cause for concern. The claims of below-par experiences and disappointing results might point to declining standards as the clinic handles all the other aspects that don't concern hair transplants.
And the overwhelmingly positive Google reviews are another cause for concern.
Overall, though, the positives outweigh the negatives. The consensus, therefore, is that Sule Hair Transplant Clinic provides good enough service at a reasonably good price.
But i wouldn't say they are in my top 5 clinics in Turkey.